Visibilités multicanaux
Suite à notre première carte blanche à Fair_Play lors du festival d'Égale à Égal en novembre 2017, voici la seconde collaboration avec ce label revendicateur et développé en dynamique de réseau destiné à promouvoir la visibilité des pratiques des femmes, cis et transgenres et des minorités socioculturelles ignorées par les systèmes dominants de visibilité, dans les domaines de la création sonore, des musiques expérimentales et alternatives et des arts associés.
16h. Lancement officiel de la compilation Fair_Play#2 , plus de 70 perles sonores de femmes, en route vers nos tympans. Deuxième compilation d'oeuvres de compositrices et créatrices sonores pour fêter les 2 ans du réseau Fair_Play : présentation/discussion + siestes musicales dans le planétarium.
Créations sonores, conceptuelles, radiophoniques, poésie concrète : ce nouvel opus rassemble un ensemble d'œuvres qui illustre le talent des artistes mais aussi toute la richesse, la force et la pluralité du réseau, en lien avec le monde dans lequel il se déploie.
17h. Ocean Viva Silver aka Valérie Vivancos
Concert-diffusion spatialisée de musique acousmatique.
Bio Valérie Vivancos
Depuis la fin des années 90, Valérie Vivancos (Ocean Viva Silver) explore les modalités du son à la croisée de recherches artistiques et musicales. Après avoir étudié aux Beaux Arts de Londres (Chelsea) et San Francisco (SFAI) et navigué 11 ans dans les courants alternatifs anglo-saxons, elle rejoint Paris et initie des projets éditoriaux et de performance (Double Entendre et OttoannA, avec Rodolphe Alexis), travaillant ponctuellement pour des structures de recherche musicale dont le GRM ou le collectif MU. Son corpus évolutif débute par l'expérience relative du silence (Em direção ao silêncio – Rio, 2001), pour s'acheminer vers les rythmes physiologiques (Sleep in Opera – Copenhague, 2002 / Stockholm 2016) jusqu'aux projections vocales (Echolalia – Paris, 2014/ Stockholm 2018).
La série en cours,"Releasing the Spirit of Objects" explore les propriétés de « corps sonores » (au sens Schaefferien) au travers de leur fonction symbolique. Chaque série se cloture par un album, publié depuis 2014 par le label suédois Sublunar Society.
Depuis 20 ans son travail est présenté en France et l'international dans des lieux d'art (CellSpace, Palais de Tokyo, Gaîté Lyrique, Leroy Neiman Gallery, Columbia University, Overgaden gallery, ICA, Mudam, JCCAC…) des festivals de création sonore (Présences Électronique au 104, Présences Acoustique à Radio France, Le Lieu Multiple, Futura, The Dark Outside, Nuit Blanche, Sonic Dreams, Bivouac Radiophonique, Bruitagène…) à la radio (France Culture, France Musique, Rte Lyric, Phaune, Radia Network, Kunstradio, Resonance FM, Jet FM, Panik, RKC…).
Elle est co-fondatrice du réseau Fair_Play.
Site web: oceanvivasilver.com
Pièces diffusées le 25 mars: 
HAZY METAL (2017 – 10'29 »)
Acousmatic / Musique Concrete
Premier volet de la série "Releasing the Spirit of Objects".
commande du GRM et de Radio France a été créé en février 2017 au studio 105 de la Maison de la Radio dans le cadre du festival Présences.
www.maisondelaradio.fr/evenement/festival-presences/clone-de-presences-2017-kaija-saariaho-5/concert-ndeg518
https://ocean-viva-silver.bandcamp.com/track/hazy-metal
​SLIPPERY SEAS (2016 – 8'00 »)
Vocalises, grincements de pontons et de mouettes, le tout emporté dans un tourbillon électro-bruitiste. Cela se passe à Sète, un port de la Méditerranée tourné vers le sud et ses chimères migratoires.
Ici, l'eau est toujours plus verte…. Et Le chant des sirènes glisse inexorablement vers une entêtante sérénade.
​https://phauneradio.bandcamp.com/track/slippery-seas​
À 18h30. Luci(e) Bortot-Schneider + Lola Ajima
Luci(e) Bortot-Schneider – Concert-diffusion en 8 pistes de musique acousmatique.
Bio Luci(e) Bortot-Schneider
Née en 1989, Luci(e) Bortot-Schneider est plongée très tôt dans différentes pratiques artistiques. Après avoir validé une licence de Philosophie, elle suit le Cycle Professionnel de Music'Halle à Toulouse en tant qu'instrumentiste où elle jouera du piano, de la basse et de l'accordéon. Elle valide ensuite son Diplôme de Fin d'Etudes de composition Electroacoustique dans la classe de Bertrand Dubedout puis son D.E.M. (Diplôme d'Etudes Musicales) dans la classe de M.Marini et J.Prager au conservatoire de Pantin. A ce jour, elle suit le Master Acousmatique et Arts sonores de l'université de Marne la Vallée en partenariat avec l'Ina et le GRM. Ses pièces sont été jouées dans différents festivals: « Bypass » d'EOLE, dans la programmation d'Alcôme, au GMEA, au Concours International de composition « Ci à di Udine» en Italie … Tout en continuant sa pratique instrumentale dans son groupe de rock'n roll Skin and Wire, elle compose également des créations sonores pour différents spectacles de théâtre. Ce travail entrepris sur la voix du comédien se retrouve plus généralement dans sa recherche qui questionne la voix à travers la musique acousmatique.
Lola Ajima – Concert de musique électronique.
Lola Ajima est le pseudonyme de la chanteuse, violoncelliste et compositrice danoise Boe Katharina Demsy Przemyslak. Issue de la scène industrielle/shoegaze danoise, elle compose des paysages sonores pour des performances de danse contemporaine et des bandes son pour des courts-métrages. Elle fait également partie du collectif d'artistes Lola and Yukao Meet qui tourne dans des festivals d'art numérique. Elle suit actuellement les cours de composition électroacoustique au Conservatoire de Pantin. À l'occasion de ce concert elle propose un set mêlant sonorités électroacoustiques et chant expérimental.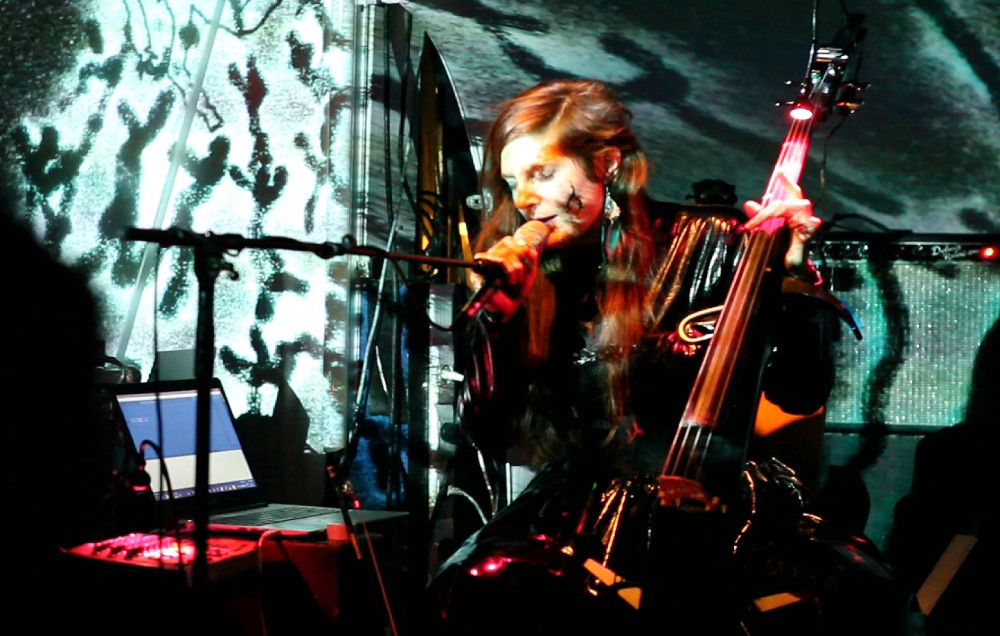 https://fairplaynetwork.bandcamp.com/
crédit photo : © Valérie Vivancos