Amandine Gasc, bioacoustique. Présentation du 13 avril à Carré bleu (Concert de Dave Phillips) dans le cadre de Script Geometry.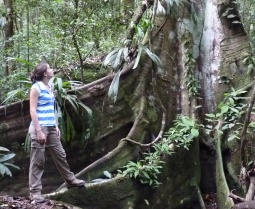 Amandine Gasc est bio acousticienne et vient de terminer une thèse au  département origine, structure et évolution de la biodiversité du Muséum National d'Histoire Naturelle. Son intervention portera sur la bioacoustique, ses enjeux, et abordera plus spécifiquement un projet expérimental d'évaluation de la biodiversité par le son, mené en 2010 à la station des Nouragues, en forêt Amazonienne Guyanaise.
Sa présentation du 13 avril, à Carré Bleu, dans le cadre du projet Script Geometry est revenue sur son travail de thèse « Analysis and Monitoring of animal biodiversity using passive acoustics  » (analyse et contrôle de la biodiversité animale par l'utilisation de l'acoustique passive », thèse suivie par Jérôme Sueur, Sandrine Pavoine (UMR 7204) and Philippe Grandcolas) a montré une utilisation scientifique de l'enregistrement sonore dans le cadre de recherche sur la biodiversité.
Une initiative qui montre par la même occasion l'approche globale de Script Geometry (sur un choix pertinent de Thomas Tilly) où l'ouverture entre démarches artistiques et projets scientifiques peut amener à des approches de diffusions et de contenus « élargis ».
http://scriptgeometry.wordpress.com/2013/04/11/amandine-gasc-bioacoustics/
http://www.researchgate.net/profile/Amandine_Gasc/
http://www.mnhn.fr/oseb/GASC-Amandine
Projet Script Geometry Thomas Tilly
Les partenaires / partners
Partenariat inédit autour du projet Script Geometry des 3 structures :
———————————————————————————
Carré Bleu : 1 bis, rue de Nimègue – Poitiers
Bureaux : La Maison du Coin
2, place Aristide Briand – 86000 Poitiers
Tél : 05 49 47 31 48 – Fax : 05 49 30 09 29
Mèl : jazzapoitiers@wanadoo.fr
———————————————————————————
185, rue du Faubourg du Pont-Neuf – 86000 Poitiers, France
tel +33 [0]5 49 46 08 08 – fax +33 [0]5 49 61 30 34
box@confort-moderne.fr
———————————————————————————
Espace Mendès France
1 pl. de la Cathédrale
BP 80964
86038 Poitiers cedex
Poitou-Charentes
Tél 05 49 50 33 00
http://emf.fr
———————————————————————————
———————————————————————————
Aide Technique, logistique et financière du CNRS Guyane
Immeuble le relais
2, avenue Gustave Charlery
97300 CAYENNE
Tèl 05 49 35 27 99
Fax 05 94 35 65 22