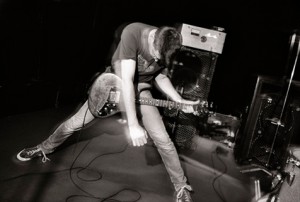 Frontman et figure emblématique de Shellac, un des groupes les plus authentiques du circuit, mais également producteur d'une ribambelle d'albums (cultes pour certains), Steve Albini a forcément une opinion assez tranchée au sujet de la musique et de son business. Sans cesse bousculé par les nouvelles technologies et une succession d'analyses souvent interprétées comme des généralités, le marché du disque avait déjà été la cible du bonhomme quand, en 1993, il publiait l'essai 'The Problem With Music'. Alors, Albini clamait haut et fort que l'industrie dominée par les majors était inefficace, exploitait les musiciens, et tirait la musique vers le bas. Vingt ans plus tard, il est toujours difficile de lui donner tort.
Le 15 novembre dernier, cette figure du monde indépendant passait par Melbourne à l'occasion de la conférence Face The Music. Là, il s'est lancé dans une longue et très intéressante comparaison de l'industrie de la musique, avant et après l'apparition d'internet, ce formidable outil qui aura non seulement démantelé un système rongé de l'intérieur, mais qui aura aussi pointé toutes ses inégalités.
Parce qu'on est des dingues, et surtout parce que ce discours éclairé mérite d'être lu par un grand nombre d'acteurs des métiers de la musique (qu'ils soient pointés du doigt ou non), on s'est donné la peine de le traduire intégralement ci-dessous. Grand donneur de leçon pour certains, Steve Albini en adresse ici une belle et instructive.
http://www.mowno.com/articles/steve-albini-le-probleme-est-resolu/