VENDREDI 11 DÉCEMBRE 2009 à 21h au Planétarium
Soirée de concerts/performances dans le cadre de make art, festival international dédié à l'intégration du Logiciel Libre et Open Source (FLOSS), des pratiques ouvertes et de la culture libre dans les arts numériques.
coproduction : collectif GOTO10 – Lieu Multiple / Espace Mendès-France
tarifs : 3€ tarifs réduits, 5€ plein tarif
plus d'infos: http://makeart.goto10.org
Concerts/performances :
•                   Koray Tahiroğlu (TR/FI) « LiveImprovS~ »
Des instruments à panneaux solaires et des données solaires transforment des ondes carrées en musique. Koray Tahiroğlu (TR/FI) allie la fragilité d'une graine d'érable déchirée au féroce vent solaire et invite l'intangible dans le son qu'il sculpte, dans cette magnifique pièce minimaliste d'ombre et lumière. « Do Sinusoids dream of electric sweeps » (les sinusoïdes rêvent-elles de balayages électriques ?) est une performance de live coding proposée par IOhannes Zmölnig (AT). À partir d'un canevas vierge, il construit petit à petit un patch Pure Data qui va devenir de la pure folie. Ondes sinusoïdales, agents se comportant mal et codes auto-modifiables.
Koray Tahiroğlu joue de la musique électronique en live, c'est un improvisateur, un chercheur et un conférencier ayant grandi à Istanbul. Il a obtenu son Master en Arts grâce à « From Me to Us », une installation musicale générée par ordinateur, qui a été montrée à Helsinki et à Toronto. En 2004, il débute des études de doctorat au Media Lab TaiK à Helsinki. Il a mené des recherches sur l'interaction musicale humaine. En 2008 Tahiroğlu devient Docteur en Arts avec un mémoire de recherche intitulé « Systèmes de Performance Interactifs: Expérimentation avec l'Interaction Musicale Humaine ». Il développe des systèmes de performance interactifs et des instruments de musique expérimentaux qu'il utilise dans ses propres concerts. Il est actuellement chercheur post-doctoral au Département d'Acoustique et de Traitement du Signal, à l'Université de Technologie d'Helsinki. À côté de ses activités de recherche, il dirige des ateliers et des cours sur les stratégies artistiques et les méthodologies pour la création d'œuvres d'art informatique, en se basant sur des applications et du matériel open source comme environnement de développement. Tahiroğlu joue de la musique expérimentale, en collaboration avec des artistes et performeurs sonores ou en solo, lors d'événements et festivals en Europe et en Amérique du Nord dédiés à l'art sonore.
plus d'infos sur Koray: http://mlab.taik.fi/~korayt
•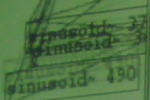 IOhannes Zmölnig (AT) « Do Sinusoids dream of electric sweeps »
Do sinuisoids dream of electric sweeps? (est-ce que les sinusoïdes rêvent de balayages électriques?) est une performance de live-coding sur Pure Data. Elle est basée sur des patchs Pd qui se modifient eux-mêmes et qui interagissent à la manière d'agent. Ces agents (les patchs) peuvent faire d'étranges choses comme : se déplacer, découvrir d'autres agents dans le voisinnage, se connecter à leurs voisins, échanger des données avec leurs voisins. L'humain doit alors faire le ménage : créer de nouveaux agents, leur dire de jouer de la bonne musique en écrivant leur propre code génératif, leur dire de se comporter correctement en changeant leur propre code d'interaction, interconnecter les agents individuels avec d'autres agents en les rapprochant physiquement, dissoudre les jonctions (politiques ?) des agents en les séparant et dans les cas extrêmes en éradiquant les agents individuels. Le rendu acoustique est une composition minimale d'ondes sinusoïdales. Le rendu vidéo est un patch Pure Data qui devient fou. IOhannes Zmölnig vie à Graz, en Autriche, où il travaille comme artiste médiatique, net-activiste et passionné de FLOSS. Il est activement impliqué dans le développement de Pure data depuis plus de 10 ans, et est actuellement responsable de Gem, zexy et d'autres paquets plus obscurs. Un des foyers de son travail artistique est l'improvisation avec les environnements informatiques en temps réel (Live Coding), c'est aussi le sujet de sa thèse de doctorat, qu'il écrit actuellement. Il aimerait se produire partout dans le monde.
plus d'infos sur IOhannes: http://umlaeute.mur.at/